Small but Mighty: Field Hockey and the Future
On a wide green field, a small, dense ball scuttles back and forth between players' hooked sticks. Categorized as an emerging sport, field hockey gains access to the turf for home games and has some expenses covered. However, without an Illinois High School Association (IHSA) sponsorship, many costs must be absorbed by the players themselves. Earlier in the season, the away bus to Antioch, Illinois cost the team nearly $400.
Although field hockey is a popular sport on the East Coast, it is much less prominent in Illinois. Naperville North is the only high school in the DuPage Valley Conference with a team, and one of only 23 teams in the entire state. 
Monica Lodge, the Huskies' head field hockey coach, started the program here seven years ago. In its inaugural season, the team included 14 girls total. They often showed up to games with no substitutes, or played one man down.
"The girls always just powered through," Lodge said. "It was amazing to watch."
Driven by tenacious spirit, the Lady Huskies no longer struggle with low attendance numbers. The program has grown to include 36 athletes, the largest in its history — enough to field both junior varsity and varsity level squads. Lodge attributes this growth to youth clinics she has brought to nearby junior highs.
Makenzie Bauer, a senior captain who has played all four years at North, first picked up a stick at the age of 13. She was exposed to the sport when Lodge introduced field hockey to gym classes at Kennedy Junior High.
"Field hockey has really brought an important balance to my life. It's brought this more energetic, fun side to an intense academic career that I've had," Bauer said.
Family is a word commonly used by teammates to describe their bond. Junior Yasmeen Mourad joined the sport her sophomore year. She says she felt the camaraderie as early as her first day of practice.
"You know you're safe," Mourad said. "Everyone has everyone else's back constantly."
Lodge is looking to grow the family even more in the coming years by creating more outreach programs. She started a field hockey clinic at the Naperville Park District and hopes to bring more potential coaches on board at other schools. She hopes exposure camps and activities will allow more girls to play at a younger age and come into freshman year with experience. 
Excited for the future of the sport, Lodge hopes to attract more athletes of all backgrounds next season. Scholarships are available for players who may not otherwise be able to afford playing a club sport.
"The beautiful thing about this sport is — I mean you look at the team — they're all different shapes, sizes, builds," Lodge said. "There is a position out there for everybody."
Leave a Comment
About the Contributor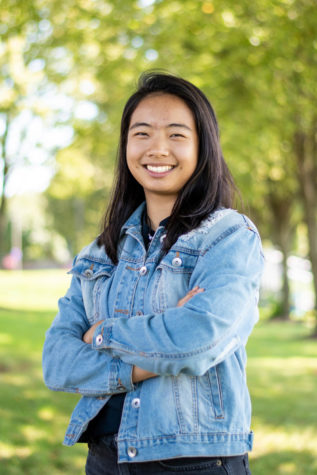 June Sun, Staff Writer
June Sun is a senior at Naperville North and a first-time staff member at The North Star. She is excited to incorporate her filmmaking and photography...