Column: The overlooked benefits of community college
After several months spent slaving away at applications, anxiously waiting for decisions and analyzing the pros and cons of each college, this year's seniors are finally in the process of choosing their future school. From Big 10 universities to private colleges, there are many options to choose from. However, one option is often overlooked: community college. Although can be the subject of ridicule and is automatically dismissed by many students, community college has multiple benefits and ultimately provides a stable path of education to obtain a satisfactory career.
Community colleges offer a two-year associate's degree, vocational training and various certificate programs. Students also have the option to transfer to a four-year university after obtaining their associate's degree to receive their bachelor's degree, usually by a 2+2 program where students take two years of classes at a community college and spend the other two years at a four-year institution. Community colleges are typically open enrollment, meaning all applicants with a high school diploma will be accepted.
Community colleges have faced stigma over time, including the stereotype that they primarily receive students whose grades aren't up to par with what's expected at four-year universities, and that their students won't obtain "good" jobs since they are looked down on by employers.
The College of DuPage (COD) is the community college located closest to Naperville North, and according to Naviance data for NNHS, 33 students from the Class of 2018 attended COD after graduation. Danica Hubbard, an English professor at COD, explained that when she was in high school, the stigma was still prevalent.
"[The stigma was that] if you were not serious about pursuing higher education then you would go to College of DuPage," Hubbard said.
However, these are just myths, as community colleges have opportunities available to students that will ensure future success, attract a diverse body of students and have multiple benefits that can make them the more appealing option to certain students.
COD offers a multitude of opportunities, with over 80 clubs, the option to study abroad and part-time jobs on campus. They offer 79 associate's degrees and 161 certificates. They also have 3+1 and 2+2 transfer programs to obtain a bachelor's degree. Their 3+1 transfer program allows students to take courses at COD for their first three years, and then be taught advanced courses by professors from a partner university on COD's campus in the last year. They also offer online, hybrid (combination of online and class instruction) and service learning (combination of volunteer work and classroom instruction) courses.
Their class sizes are typically smaller as well, which is beneficial for certain students. Four-year universities can have large classes, especially with general education courses. Hubbard stated that her daughter, who attended the University of Illinois at Urbana-Champaign, had a chemistry class that had about 700 students.
"You will not find anything like that here at College of DuPage," Hubbard said. "One of the biggest classes I teach is 25 students, so it's very small and intimate, and we are very student-centered, so students are encouraged to collaborate with one another, work in groups [and] come to professor's office hours."
In Hubbard's opinion, community colleges host students who are truly passionate about their education and learning, and she has seen this among her students.
"The commonality among all of those students is they're very curious about their education, and they're open to the exploration of different subject matters…and [with the] students that I encounter, their availability and creativity are open to reading any types of material, and I think that curiosity and motivation really helps in their academic success," Hubbard said.
Community college is also cost effective and allows students to explore their major options without having to pay a hefty price do to so. Going to community college is often cheaper than going to a school in-state. For instance, the University of Illinois at Chicago, Illinois State University, and the University of Illinois at Urbana-Champaign have yearly sticker prices of $30,866, $29,758, and $30,102 respectively for in-state students (including room and board on-campus). In comparison, COD has a sticker price of $18,649 for in-district (District 502) students and $24,259 for in-state students (including $9,226 room and board off-campus). However, community colleges usually go off of payments by credit hours instead of the typical sticker price, which would be $137 per credit hour for in-district residents and $324 for other Illinois residents at COD.
Taylor Praught, a freshman at COD, decided to attend community college since she didn't know what she wanted to major while in high school, so attending community college would save her money as she decided what she wanted to do.
Since students usually live at home while attending community college, some are concerned that it will be too similar to high school rather than a true college experience. However, Praught feels that COD is different from high school. She attends classes three days a week and she enjoys being able to live at home and go to college with her friends while saving money on her education.
She believes that community college is a good option for high school students to consider.
"It gives you time to figure out what you really want to do in life instead of going to a big university and having to transfer because you changed your major. And [community college] also gives people time to be ready to leave the house…so it really allows you to grow…and figure out what you need as a person," Praught said.

About the Writer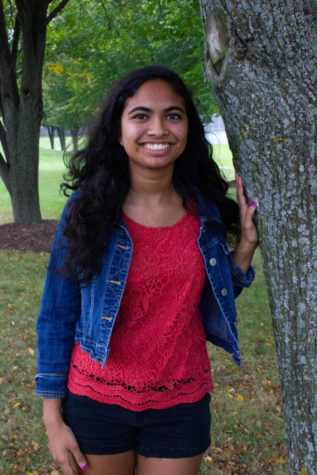 Tia Arcot, Staff Writer
Tia Arcot is a senior at Naperville North, and is excited to join the North Star this year. She loves to write, and currently serves as the PR manager...