North girls soccer wins first home matchup of season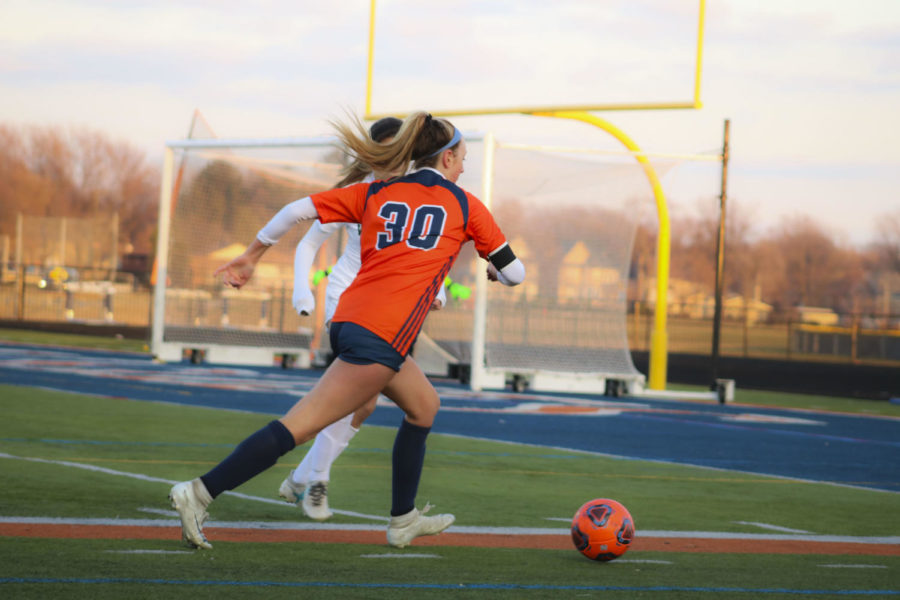 On Tuesday, the Naperville North girls soccer team took down the previously undefeated Waubonsie Valley Warriors in both their first home game and first conference matchup of the season.
The Naperville North Huskies (2-2-1,1-0) defeated the Waubonsie Valley Warriors (2-1-1,0-1) by a final score of 3-1.
The Huskies' offense was kickstarted by senior captain Riley Riggs, who scored a goal off of a corner kick, and was followed by goals in the second half from juniors Leah Shumate and Hannah Martin.
"I thought the girls really came out and played really well tonight," head coach Steve Goletz said. "We generated a lot of chances going forward and we did a nice job guarding a couple of phenomenal players on Waubonsie."
The Huskies led 1-0 at halftime, but the Warriors scored an equalizer early in the second half. Still, the girls kept up the energy and intensity needed to secure the win.
"To go up 1-0, and then give up a goal, and then have the response to get goals two and three, I was really happy with the way they responded and battled all game," Goletz said.
The team had to fill seven starting spots this season, and with new players thrown into the mix, the team lost some of its existing chemistry. The Huskies had difficulty adjusting early in the season, but are starting to learn how to play as a team.
"The past couple of games we have formed our identity a little bit more, and we've learned how to work with each other," senior goalie Amanda Johnson said.
Despite some early season loses to ranked teams, the girls continue to improve their ability to play together and are starting to gel as a group on the field.
"The comforting thing is, you can see them getting better every game, and as a coach that is all you can ask for," Goletz said. "It stings a little bit to take some losses, but if losses show us what we have to work on, we are going to be fine. [I] couldn't be happier for them to start off DVC this way."
The Huskies will continue their season on Sat., April 6 at Evanston High School against Carmel High School, as part of the North Shore Invitational. The game is scheduled to begin at 1 P.M.