NCAA Tournament Notebook: Round of 32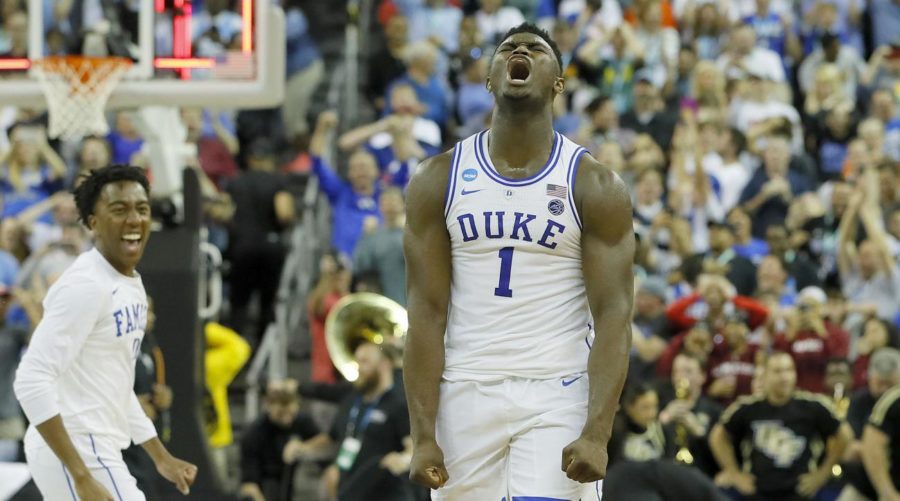 Gonzaga v. Baylor
Score: 83-71
Junior Brandon Clarke led the way for the Gonzaga Bulldogs with a scorching 36 points, and Baylor's cold shooting (4-21 from 3-point range) kept them out of reach. Bulldogs move on to play Florida State.
Next up for Gonzaga: vs. Florida State (4-seed)
Murray State v. Florida State
Score: 90-62
Ja Morrant tried. His game-high 28 points weren't enough for a Florida State team that dropped 50 in the first half and out-rebounded the Racers 45-33. The Seminoles were led by Mfiondu Kabengele, who scored 22 points to advance Florida State to the Sweet 16.
Next up for Florida State: vs. Gonzaga (1-seed)
Buffalo v. Texas Tech
Score: 78-58
Texas Tech moves on with a balanced scoring attack — all five starters scored at least 10 points. Buffalo's Nick Perkins had a 17-point double-double, but the Red Raiders comfortably advance to play the 2-seeded Michigan Wolverines.
Next up for Texas Tech: vs. Michigan (2-seed)
Florida Michigan
Score: 64-49
The Michigan Wolverines are moving on to the Sweet 16, led by a 19 point performance from Jordan Poole and a 9 point, 9 rebound, 9 assist stat line from Zavier Simpson. Florida lost the rebound battle and only attempted two free throws, ending their chances at an upset.
Next up for Michigan: vs. Texas Tech (3-seed)
Duke v. UCF
Score: 77-76
On paper, Duke is the better team. On the court, UCF has 7'6" Tacko Fall. Duke came up big when it needed to, with a Cam Reddish 3-pointer cutting a four-point lead to one, and huge buckets from Zion and RJ Barrett pushing Duke ahead by one, before UCF's last possession just rimmed out, sending the Blue Devils to the Sweet 16.
Next up for Duke: vs. Virginia Tech (4-seed)
Liberty v. Virginia Tech
Score: 67-58
Virginia Tech's defense turned up against the 12-seeded Liberty Flames, and it showed with Flames guard Caleb Homesley shooting 3 for 11 after scoring 30 in the opening game. Kerry Blackshear Jr. led the Hokies with 19 points and 9 rebounds, as Virginia Tech advances to play number one seed Duke.
Next up for Virginia Tech: vs. Duke (1-seed)
Maryland v. LSU
Score: LSU 69-67
In one of the most exciting tournament games so far, Tremont Waters drove the lane and made a contested layup with 1.6 seconds left to lead LSU to a second-round victory over Maryland. After trailing by as much as 15 at one point, Maryland fought their way back and even took the lead with under four minutes left. Despite great play inside by Bruno Fernando and Jalen Smith to lead the Terrapins back, the balanced LSU offense was able to revive themselves and lead the Tigers to a win, and a trip to the Sweet 16.
Next up for LSU: vs. Michigan St. (2 seed)
Minnesota v. Michigan St.
Score: Michigan St. 70-50
This game was all MSU. Despite Minnesota guard Amir Coffey scoring a game-high 27 points, Golden Gopher big man Jordan Murphy played just four minutes due to an injury and no other Minnesota player scored more than nine points. The Spartans shared the ball nicely on offense, shot 57.1% from the field and earned their way to the Sweet 16.
Next up for Michigan St.: vs. LSU (3 seed)
Wofford v. Kentucky
Score: Kentucky 62-56
Just two days after breaking the NCAA record for most 3-pointers in a career, Wofford guard Fletcher MaGee was held to eight points and 0/12 from three-point range. Kentucky big man Reid Travis led the Wildcats with 14 points and 11 rebounds, leading his team to a second-round victory over the Terriers. Kentucky is back in the Sweet 16 for the fifth time in six years.
Next up for Kentucky: vs. Houston (3 seed)
Virginia v. Oklahoma
Score: Virginia 63-51
After a slow start, top seed Virginia fights past Oklahoma to advance to the Sweet 16. Diakite (14 points, 7-9 FG, 9 rebounds) and Jerome (12 points, 5-10 FG, 3 assists) lead the Cavaliers to victory. Virginia's defense ended up being the deciding factor, beating out Oklahoma 6-1 on blocks, 6-3 on steals, and 36-29 on total rebounds.
Next up for Virginia: vs. Oregon (12 seed)
Oregon v. UC Irvine
Score: Oregon 73-54
After an Oregon dominated first half, UC Irvine came out on fire, holding the Ducks scoreless for nine minutes. Soon after, momentum shifted back to Oregon as Prichard and King kickstarted the offense, while Wooten and Amin hustled to pick up the defense. An overall "dog-fight" of the game, Oregon's composure and defensive intensity send them on to the Sweet 16.
Next up for Oregon: vs. Virginia (1 seed)
Villanova v. Purdue
Score: Purdue 87-61
Defending champs Villanova fall to Purdue with a final score of 87-61. Purdue's Carsen Edwards puts up 42 points to lead the Boilermakers to victory and send them into the round of 16.
Next up for Purdue: vs. Tennessee (2 seed)
Iowa Tennessee
Score: Tennessee 83-77 (OT)
This game was crazy. After a first half that was nothing but controlled by Tennessee, including a 25-point Volunteer lead at one point, the second half was exactly the opposite. Big man Luke Garza, along with steller Hawkeye shooting, led Iowa all the way back to force overtime. In overtime, superstar and two time SEC player of the year Grant Williams made some big plays for Tennessee to survive the Iowa comeback and earned a trip to round three.
Next up for Tennessee: Purdue (3 seed)
Ohio St. v. Houston
Score: 74-59
The Houston Cougars managed to pull out a 74-59 victory over the Ohio State Buckeyes. This was Houston's 33rd win for the season. Despite many fouls early in the second half, Houston was able to hold onto their lead to stop the Buckeyes from scoring with an incredible defensive effort. In the end, it was Houston's dominance in the paint paired with their airtight defense that punched their ticket to the Sweet 16.
Next up for Houston: vs. Kentucky (2-seed)
North Carolina v. Washington
Score: 81-59
North Carolina won the rebound battle. They shot the ball better from the field, from the 3-point line, and from the free-throw line. The Tar Heels had more assists. So naturally, they won the game, led by Luke May and Nassir Little, who had 20 points each.
Next up for UNC: vs. Auburn (5-seed)
Auburn v. Kansas
Score: 89-75
Auburn blew Kansas out of the water in a decisive 89-75 victory. The Kansas team simply could not defend a dynamic Auburn offense. Auburn made 13 3-pointers over the course of the game, a program record in the NCAA tournament. That combined with their ability to force turnovers and then convert those turnovers into points ultimately pushed this 5 seed team to victory.
Next up for Auburn: vs. UNC (1-seed)