Review: Ariana Grande's "7 Rings" is confident and catchy
Since releasing her debut album Yours Truly in 2013, Ariana Grande has quickly transformed into an unstoppable icon whose musical influence spans internationally. Her most recent album, Sweetener, broke Spotify's streaming record by gaining 109 million streams in less than five days of its release, and her single "7 Rings" which dropped on Jan. 18 earned 15 million Spotify streams in just 24 hours, the most a single has ever received in a day. Grande's success is jaw-dropping and more than well deserved.
"7 Rings" begins with a sample of "My Favorite Things" from "The Sound of Music," using the well-known tune's melody but adding a hip-hop flair and changing the lyrics. Grande's sampling method is not only creative but also used by a plethora of artists, including Panic! At The Disco in their song "Hallelujah" and Beyoncé in her chart-topper "Crazy in Love." Throughout most of her song, Grande replays the same instrumental line behind the lyrics, dropping it out only in the bridge. This adds excitement to the track and allows the song to heighten until reaching its peak at the bridge about two minutes in. The chorus in Grande's single introduces a catchy sort of rap, reminiscent of songs on Sweetener such as "the light is coming" (feat. Nicki Minaj). She continues in the second verse of "7 Rings" to dispute the cliche "Money can't buy happiness," singing "Whoever said money can't solve your problems must not have had enough money to solve 'em," and adding in the bridge "Ain't no budget when I'm on the set."
What's more important than Grande's mantra of money, however, is her inspiration for this immediate hit. She shared via Twitter on Dec. 1 that she recently splurged on diamond rings from Tiffany's for her and her six best friends (hence the song's title
, "7 Rings"). After her recent split from Pete Davidson, it seems all Grande needed was quality time with her friends and some serious retail therapy. And what better way to share the new and improved Ariana than in a song?
It is undeniable that Grande's single flawlessly captures the confident and unapologetic woman she has become since breaking off her engagement and releasing "thank u, next" in November of 2018. Keep it coming, Ari.

About the Writer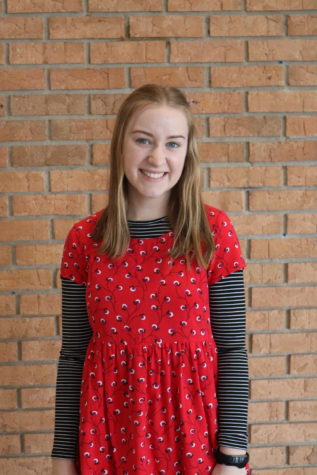 Lauren Guidish, Staff Writer
Lauren Guidish is a senior at Naperville North and is excited for her first (and last) semester working as a staff member for The North Star! She is looking...