A breakdown of blended learning at Naperville North
With course selection on the horizon, Naperville North students are choosing from the wide array of courses for their upcoming year's schedule, and one option is blended learning classes. Since their implementation in the 2016-2017 school year, blended learning classes have given students an alternative to the traditional classroom setting and an opportunity to individualize their schedule and learning.
North offers 54 blended learning classes for the 2019-2020 school year in the subjects of Communication Arts, Career & Technical Education, Fine Arts, Mathematics, Science, Social Studies, Wellness and World & Classical Languages. However, Algebra I, Geometry, Introduction to Business, World Cultures, World History and AP World History are the only blended learning classes available to freshmen for the upcoming school year.
The Naperville District 203 2019-2020 Program Planning Guide defines blended learning as utilizing an online component and in-classroom instruction to teach the class. The format consists of two or three days of classroom instruction per week, and the remaining days involve independent online learning tasks that students are required to complete. During the independent days, students can stay at designated areas of the school if they wish, or they can choose to not be at school given parental permission.
John Noffke, a social studies teacher at Naperville North for both blended and regular classes, stated that in-class days usually consist of an activity. This can be group work, a lecture where students take notes, a video or another activity that encourages student participation. The structure of independent days varies based on what the teacher chooses, and Noffke organizes his online work in a specific manner for his Blended American Government class.
"What [students] have is an objective to do, and then they have multiple resources that they can choose to do it," Noffke said. "They can use our textbook, they can use videos that I have selected for them, they can use readings, slides, and it's all arranged in a grid for them. And based on what they're comfortable with, they can work with their peers or by themselves."
Blended learning classes don't entail more work than conventional classes at North; rather, they just give students more flexibility and a new way to learn the material. Ultimately, students will accomplish the same tasks that they do in a traditional classroom setting, with quizzes, tests, exams and benchmarks still completed. Many assignments will also have to be done by the student outside of class. The Program Planning Guide states that self-motivated students who are adept with time management and comfortable with a variety of technologies would most likely succeed in a blended learning class.
According to Noffke, what truly differentiates blended learning from online learning and traditional learning courses is the pace at which students can accomplish their online work, while still having immediate access to their teacher during those times.
"When you are in a blended class, the teacher is still on-duty, even on online or independent days, so you can always access your teacher in the building. The teacher moves in and out of the online and in-class activities," Noffke said.
Noffke has heard from his own students that blended learning classes prepare them for both college and work experience. At most colleges, students do not see their college professors every day, and can't receive help as easily or as quickly. He states that the teacher doesn't direct exactly how students must learn the material during college courses.
"The teacher is more of what we call the facilitator, which uses different tools and different pathways to help students learn in their own personalized way," Noffke said.
Onur Yorulmazoglu, a senior at Naperville North who is currently taking Blended French 4, explained that the class environment is more comfortable overall since students are not confined to a classroom space the whole day. The only challenge he has encountered with being in a blended learning class is making it back to school on time after being off-campus for independent days. However, it is only a minor drawback for him.
"Since I'm in a more comfortable environment, I think it's easier to retain information. It's also easier to cooperate with others, because you establish those better friendships between each other from hanging out in the Learning Commons while also doing work at the same time," Yorulmazoglu said.

About the Writer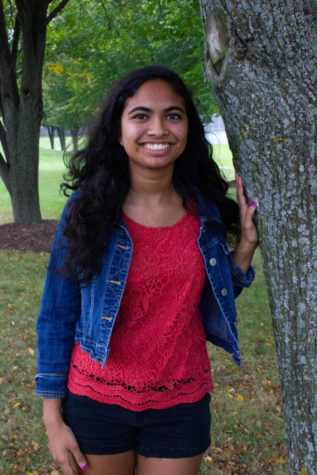 Tia Arcot, Staff Writer
Tia Arcot is a senior at Naperville North, and is excited to join the North Star this year. She loves to write, and currently serves as the PR manager...