NNHS Hockey defeats the DuPage Stars in rematch
The Naperville North Huskie Hockey Team defeated the DuPage Stars after losing to the team earlier in the season.
The Naperville North Huskies (4-11) defeated the Dupage Stars (3-12-1) with a final score of 9-1.
The Huskies, determined to break their six-game losing streak, started out the first period strong with goals by Brett Martin, Brett Hare and Gavin Klaisle.
"It had a lot to do with practice; this week we came in, we worked a lot harder, our coach talked a lot about playing with more intensity and [getting] better as a team," Senior captain Brett Martin said.
The scoring continued into the second period, with goals from Peter Mandarino, Kyle Harfoush, Connor Ryan and Dan Boscarino, finishing the period up 7-1.
"For sure it was more about [the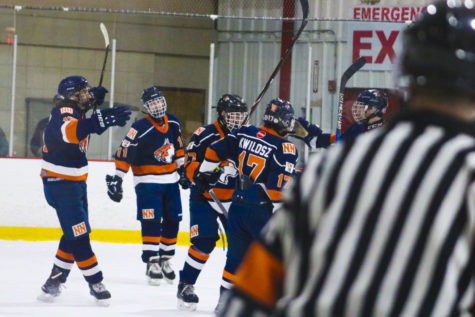 Photo by Kirubel Mesfin
] team, we all seemed to click a little bit better today, and just being able to put more puck in the net and hold the lead throughout the whole game [helped]," Martin said.
Goals from Ryan and Martin in the third period put away the contest, as the Huskies completed the blowout win. Next up for the team is a home match against the Fenwick Friars (5-24) this coming Tuesday at All Seasons Ice Rink.