Managing the stress of the college application process
Decked out in Nintendo character costumes on the first day of school, the Class of 2019 marked their enthusiasm for senior year. With new privileges and special senior activities lined up, students can expect an exciting end to their high school career. Amidst this frenzy is the ever-looming prospect of applying to college; a process that marks a new chapter in students' lives, but can seem intimidating. However, this process is manageable with proper planning and prioritization on the students' part.
College applications require a substantial amount of time, beginning as early as junior year. Writing essays and supplements, researching and choosing from over 4,300 schools the U.S., applying for financial aid, visiting colleges, getting teacher recommendations and understanding each college's application requirements can be a lot for a student to handle at once.
One of the most stressful aspects of the process is meeting application deadlines. Students may choose to submit them by the early action deadline of November 1, which is close to the middle of the semester. Regular decision deadlines usually fall right after winter break, close to or on January 1. 
Andrew Cummings graduated from Naperville North High School in 2018 and is a freshman at Columbia University. He found success by applying with early decision, which is binding.
"Around that time [of applying] is the middle of the semester when your classes start to pick up," Cummings said. "If you do regular decision, lots of those things are due over winter break or January 1, so I know that left a lot of my friends frantically working on things over finals or during winter break."
To make the application process more manageable, students should be aware of the resources available to them at North. Counselors, teachers and the College and Career Center staff are especially helpful during this time. Students can receive assistance with technological tools like Naviance and creating a solid list of schools to apply to. This information can help students not be as overwhelmed with the multiple components of their college application process, which can allow them to complete their applications more efficiently.
Brian La Porte, College and Career Counselor at Naperville North, has witnessed the mistakes students make along the way that cause stress. According to La Porte, the factor that contributes most to college application stress is putting off applications until the last minute.
"The biggest piece of advice I can give students is [to] not procrastinate…I think the best thing the student can do is to segment it," La Porte said.
Segmenting, according to La Porte, entails working on small portions of the applications each day.
"If you chunk it into smaller, manageable segments, you're going to see a lot more success in not only getting the application done but feeling less stressed throughout the process," La Porte said.
Naviance is an online resource that helps students request teacher recommendations and transcripts, sign up for college visits, and research specifics about each college. However, it can create confusion due to the large amount of information at hand. La Porte encourages underclassmen to get familiarized with the database early on in their high school careers so they are comfortable with it by their senior year. For current seniors, he recommends students to contact him with any questions or difficulties.
Students may worry that getting into their top college is the only way they can achieve success. La Porte explained that, ultimately, students need to understand that the college they go to does not define their entire future, and that there are other viable options out there if they do not get into their top colleges. He wants to let students know that college is not for everybody, and people should be proud of whatever path they choose to take.
"You have to live with the decisions that you make," La Porte said.

About the Writer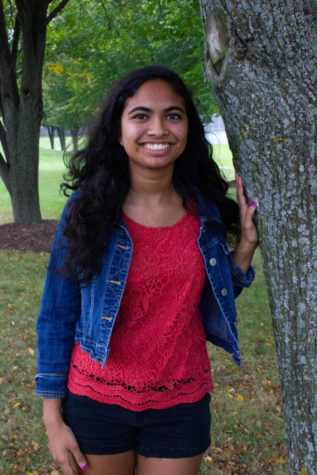 Tia Arcot, Staff Writer
Tia Arcot is a senior at Naperville North, and is excited to join the North Star this year. She loves to write, and currently serves as the PR manager...