Column: After the success of "Crazy Rich Asians," is Hollywood moving towards diversity?
The richest Asians take the world — and the box office — by storm.
After three weeks at the top of the U.S. box office, Jon Chu's "Crazy Rich Asians" became one of the most successful romantic comedies in cinematic history on Labor Day weekend, according to Box Office Mojo. The cast is almost entirely composed of East Asian actors and actresses, the likes of which hasn't been seen since "The Joy Luck Club" opened 25 years ago.
The film follows Rachel Chu (Constance Wu), who agrees to accompany her boyfriend Nick Young (Henry Golding) to Singapore for his best friend's wedding. While there, she meets his family for the first time, who are, unbeknownst to her, some of the wealthiest people in the world. Rachel stumbles headfirst into a whirlwind of family, business and responsibility, caught between her morals and her love for Nick.
"Crazy Rich Asians" is proof that Hollywood is finally seeing some change. For decades, film has been dominated by the same white actors and repetitive archetypes: a dark, brooding man paired with ditzy arm candy. However, minorities have finally stepped into the spotlight. Two years ago, "Moonlight" won the Oscar for Best Picture, a film about a gay black man, and last year's Best Picture went to "The Shape of Water," which featured a mute woman and her best friends, a black woman and a gay man. In the realm of superhero films, "Black Panther" was a huge hit, depicting several African cultures in a mostly African-American cast. And just this August, Netflix came out with the movie "To All the Boys I've Loved Before," a film starring an Asian-American actress. Similarly, "Love, Simon" portrays an LGBTQ love story with an ethnically diverse cast.  
Will this become the norm, though? It's hard to say.  In 1993, "The Joy Luck Club" hoped to turn the tides in film and fell short, in the opinion of an article by Deadline. In 2017, Scarlett Johansson, a white woman, played the main character in "Ghost in the Shell" even though the character was originally written as Asian. "The Great Wall," a film released in 2016 about the Great Wall of China, stars Matt Damon, a white actor. Even as representation holds a spotlight, other films continue to whitewash casts.
That being said, Hollywood is more prepared for diversity. Last spring, the sixth season of "Brooklyn Nine-Nine" was dropped by Fox and picked up by NBC within 31 hours. With a cast ranging from two black men to two Latina women, as well as delicate handling of serious issues, "Brooklyn Nine-Nine" is a comedic television show that showcases diversity and hot button topics. Just an hour after the cancellation hit Twitter, "Brooklyn Nine-Nine" was trending worldwide.
Over the past few years, Hollywood has slowly but steadily worked toward inclusion in the media. It's not one movie that's going to catalyze the change of film; it's the gradual change of societal standards that will instigate the necessary representation.
About the Writer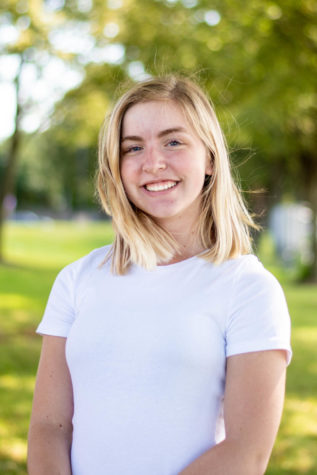 Katie de Waard, Special Projects Managing Editor
Katie de Waard is a senior at Naperville North and the Special Projects Managing Editor for The North Star, looking to enhance staff storytelling. During...