Opinion: The legacy of South African State President FW De Klerk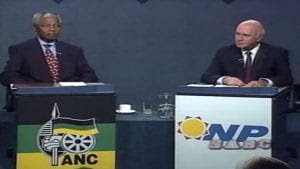 On April 26, 1994, poll stations opened across the Republic of South Africa. For the next three days, both black and white voters would cast their ballots in the country's first non-racial parliamentary elections, a watershed moment that created the first democratic government of the country; something that could not have happened without State President FW de Klerk, who died last month. 
Although he has passed away, his determination and successful accomplishments should still be remembered as a textbook example of reconciliatory action. Thirty years on, the legacy he leaves behind is one that shines bright as a beacon of healing, and as a reminder that no matter how bad the situation, there is always room for hope.
De Klerk, before his term as president, was initially seen as a defender of apartheid. However, he shockingly announced in his opening of the last racially segregated Parliament the legalization of anti-apartheid organizations such as the South African Communist Party, the Congress of South African Trade Unions, and most crucially Nelson Mandela's African National Congress (ANC). The unexpected move provoked audible protests from segregationist parliamentarians who opposed it. Even more surprising was his release of political prisoners such as Thabo Mbeki and Nelson Mandela, both of whom went on to serve as de Klerk's successors, and his tolerance of anti-apartheid protests in South Africa that had previously been violently suppressed. He overturned laws restricting segregation of public facilities, and negotiated with the ANC to reform the political system of South Africa into a more equitable one. These negotiations eventually culminated in the 1994 general elections that formed the first-ever black majority government in South African history.
But as many Black South Africans still struggled in poverty and economic inequality, de Klerk himself struggled to find forgiveness of his actions from the Black community. It was this struggle that de Klerk leaves behind in the most recent message of his voice, released by the foundation he established, in which he describes his decision to end apartheid almost akin to "a total conversion." One can only hope that his final apology for "the pain, the hurt, and the indignity" caused to the people of South Africa will finally settle the cries of his detractors and solidify his position with regard to apartheid, or as he called it, "separate development."
While de Klerk may still be chastised and condemned in the days after his death, his contribution to the creation of a multi-party non-racial democracy should be regarded as invaluable. Through his actions, a country once cast away from the international stage bounced back to become one with respect for human dignity and economic opportunity where there was none. Although he may have only served five years as State President, those five years proved to be one of the most important periods in South African history. They were a period of reconciliation, assistance, and healing, in which optimism for the future of South Africans as a whole was renewed. 
Today, in the United States and in South Africa, Black men and women are still calling out for justice. They are frustrated by continued examples of what they see as police brutality, and of the economic conditions that plague their brothers and sisters. They desire a true emancipation from inequality, poverty, insecurity, among many other factors rooted in centuries of betrayal and exclusion. In their desperation, some of them have chosen to lash out, while others have given up hope that the situation will improve at all. 
But rather, in an era where tensions between different races even in America are high, and economic inequality in South Africa rears its ugly head through the form of riots, the passage of the Afrikaner statesman should serve as a reminder of the possibilities of hope. His life — no matter how vilified and attacked — was marked by a concerted effort to heal the wounds of the past and begin concrete attempts to improve the status quo. He hoped, wished, and did his utmost to ensure that his vision of a South Africa grounded in equity — of a belittled and extorted continent removing the hindrances to its full potential to rise above — would be fulfilled. While de Klerk is no longer with us, his actions and words, rooted in compromise and optimism should serve as an example to us all — especially to students, as those who will be leading the charge into the future. 
Rather than lash out or give up, Americans and South Africans alike, when confronted by painstakingly important issues, would be better served by instead "[turning] our country away from its present direction of conflict and confrontation," as de Klerk set out to do in his 1990 speech to Parliament.
The South African Broadcasting Corporation broadcast, in full, the April 14, 1994 pre-election debate between Nelson Mandela and FW de Klerk on its 25 year anniversary. You can watch the full debate on Youtube here.