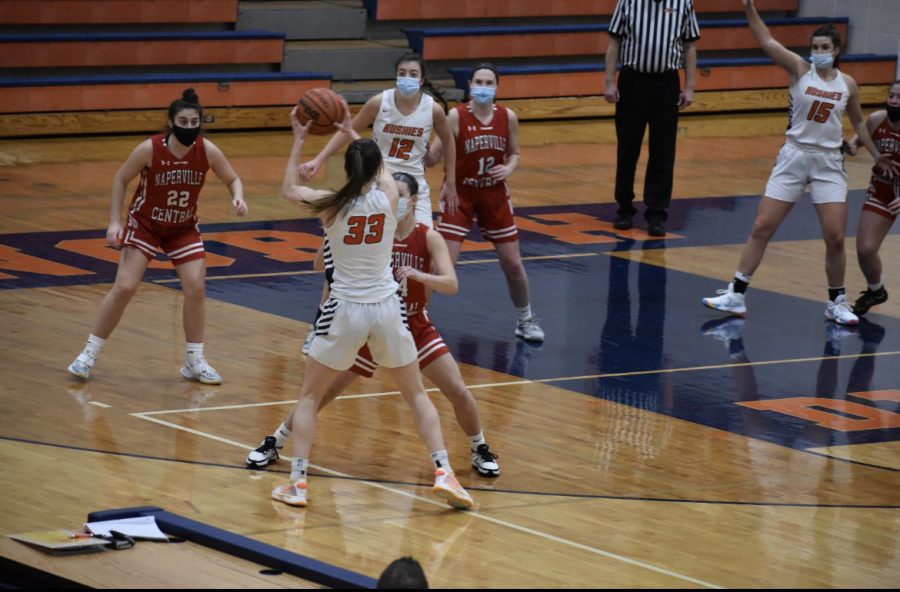 The Naperville North girls basketball team dominated in their final home game of the season against rival Naperville Central.
The Naperville North Huskies (10-1, 6-0) defeated the Naperville Central Redhawks by a score of 68-43. 
The Huskies started off fast on both the offensive and defensive end. On the defensive end, the Huskies forced the Redhawks into many turnovers due to their full court press. The energy on defensive translated to the offensive end for the Huskies and they ended up outscoring the Redhawks 30-5 in the first quarter. The second quarter wasn't much better for the Redhawks as they went into halftime down 44-18. Senior Greta Kampschroeder attributes the team's offensive success to the trust they have in one another. 
"Staying in our rhythm and being confident helped us in finding the good shot. I think we did a good job of moving the ball around and finding open shots," Kampschroeder said.
The Redhawks hit a few big threes in the third quarter but the Huskies offense continued to produce open shots to close out the dominant performance. With the shortened season coming to a close and this being the last home game for the Huskies seniors, Alison Kickel and Greta Kampschroder reflected on playing their last home game for the Huskies. 
"It's bittersweet. It's going to take some time getting used to not playing at North anymore," Kickel said. 
The Huskies are looking to keep up their drive for their last couple games of the season. Sophomore Abby Drendel hopes they can continue to perform at a high level to close out the season. 
"We really are looking to keep up the same energy into the next game and continue to come out strong," Drendel said.
The Huskies continue their season on March 9 at Metea. The game is scheduled to tip-off at 7 P.M.