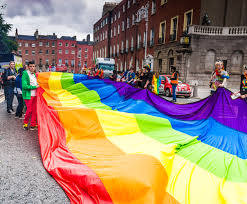 Wikimedia Commons
When she was a freshman, Naperville North junior Claire Liu overheard other students using homophobic slurs. When she saw no visible reaction from faculty members, she was shocked and felt the need for a cultural change. 
In the summer of 2019, Liu partnered with the Alive Center to create a program for teens who are a part of the LGBTQ+ community along with its allies, called the Hope Initiative. The program aims to create a safe space for LGBTQ+ teens along with advocating for various social issues such as LGBTQ+ rights, Indeginous people's rights, Black Lives Matter and more. 
"I really want to focus on making sure that people have a safe space that they can go to and communicate with, but also create change," Liu said.
Initially, Liu wanted to create a PFLAG chapter, as part of an organization that unites families and allies with the LGBTQ+ community. Even though Dupage County already has a pre-existing PFLAG chapter, Liu wanted to establish a chapter on a local level for Naperville. Upon talking to the Alive Center, she realized that what the community needed was an advocacy group for its youth. 
"I just wanted to create a space where we could connect people, regardless of where they live or what school they went to, and really focus on tangible activism and advocacy for the LGBTQ+ community," Liu said.
With 2020 being a year where activism on social media has been especially prevalent, NNHS senior and Event Coordinator of the Hope Initiative Asha Rajagopal has emphasized the importance of avoiding performative activism, which is commonly defined as when a person promotes something for their own social gain rather than their devotion to the cause.
"We really try to give that 'what to do next' step in social media because right now, performative activism is a huge thing being seen and it's being called out. We want to make sure we are contributing to actual activism," Rajagopal said. 
The Hope Initiative does not focus solely on LGBTQ+ rights. Liu talks about the idea of intersectionality, or the understanding of how different forms of oppression can be connected. She emphasizes that the Hope Initiative has an opportunity to advocate for intersectionality. 
"Something that is unique about the LGBTQ+ community is that there are members of the community in every other marginalized community…that provides us with a great opportunity to also focus on issues that don't directly relate to the LGBTQ+ community," Liu said.
Vice President of the Hope Initiative and NNHS Junior Vani Thakur believes the Hope Initiative cultivates a very welcoming atmosphere, differing it from other clubs. The Hope Initiative has created a comfortable environment for Thakur and becoming a member has helped her form many friendships. 
"Unlike other clubs where it's almost always strictly business…it's really open so I'm pretty much friends with everyone. I can pretty much talk to them at any time," Thakur said.
Creative Director sophomore Megan Colburn discusses the club's inclusivity to allies of the community. She emphasizes the importance of having members within the Hope Initiative that may not identify themselves as LGBTQ+, but are willing to fight alongside those that do. 
"It's still a good learning experience because you can understand not only how the LGBTQ community views things but how they're impacted by things [that] an ally might not be impacted by. The ally can also give a different perspective on how to make certain situations better," Colburn said. 
Liu's goals for the Hope Initiative going forward are to increase their attendance and to create more positive change, whether it be for LGBTQ+ rights or other social issues. As of right now, the program evenly splits its activism between on LGBTQ+ rights and other social issues. 
"I guess the big thing to remember is that no matter who you identify as, or what your goal for promoting change is, we have a place for you and we are definitely here to welcome you," Liu said. 
Due to the current safety measures in the face of the pandemic, the Hope Initiative has been unable to conduct in-person meetings. The club hosts Zoom meetings on Fridays at 3:30 and are looking to return to in-person meetings at the Alive Center as soon as possible. If you are interested in becoming a part of the Hope Initiative, it is as simple as sending a message  to their instagram.
"[The Hope Initiative] makes me see the world in a different way, but it's not a bad way…I'm just determined to make it better," Rajagopal said.