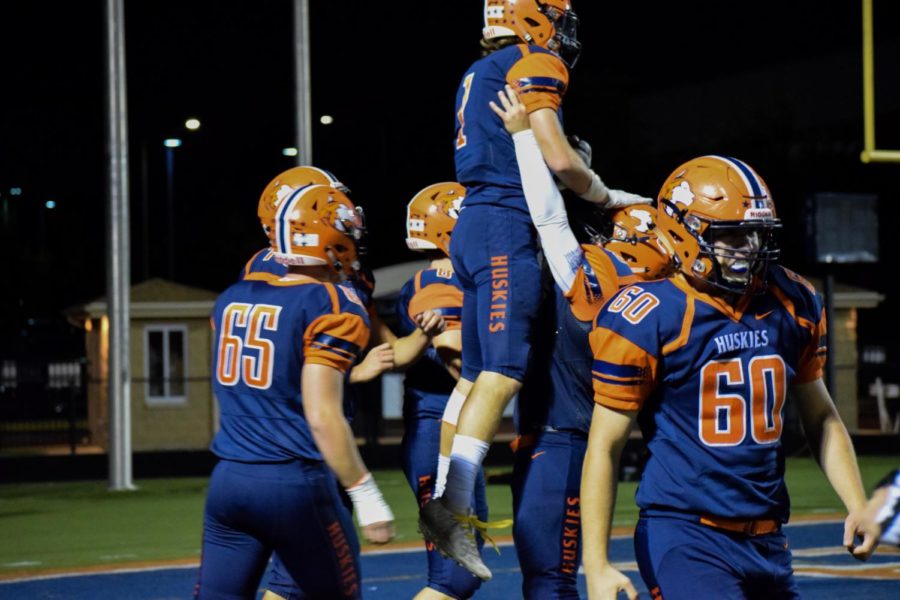 Payton Schield
A full team effort led the Naperville North Huskies to success against the Metea Valley Mustangs, bringing a victorious end to this year's Homecoming week.
The Naperville North Huskies (2-4, 2-1) defeated the Metea Valley Mustangs (1-6, 0-3) by a final score of 41-21. 
In a great offensive showing, the team scored 41 points, achieving a season-high. The offensive line allowed the Huskies to utilize running backs on the ground, including juniors Justin Sterling and Lontrez Duckworth, who opened up the passing game.
 "There was a lot of good blocking up front, a lot of big guys doing their thing, and it wouldn't have happened without them," Sterling said.
In the second half of the game, North was up 26-21 when junior Connor Corrigan made a big play to push the Huskies' momentum forward. Corrigan, a defensive lineman, deflected a pass to himself and took it back for a 77 yard touchdown. 
"I was just rushing the quarterback, trying to make a play for my team, and I just happened to hit the ball up in the air and I took it back for six," Corrigan said.
Getting a win in the Homecoming game makes the experience all the more special, according to Head Coach Sean Drendel.  
"When you play in our league, anytime you win, it's special to win. Also, with it being a homecoming win, it makes it a little more special, so I am super proud of our guys," Drendel said.
The Huskies will continue their season on Friday, Oct. 11 against the DeKalb Barbs. The game is set to start at 7 p.m.