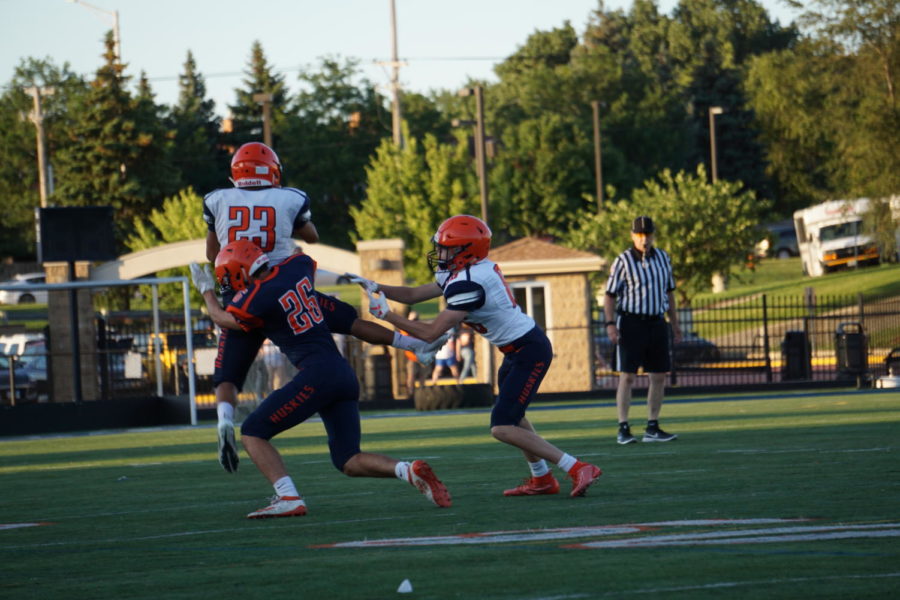 Megan Cablk
Naperville North football will kick off the 2019 season this Friday at home against Benet Academy, the first against the Redwings since 1990.
"The kids have come together really nicely. They're working extremely hard… and I think our kids have done a really good job of battling through adversity, " Head Coach Sean Drendel said. 
Last Friday, the team played in its annual Blue and Orange Scrimmage to give the players some practice in a game-realistic environment. Senior wide receiver Matt Maschmeier was pleased with his team's performance and was glad to get experience on the field before Friday's game. 
"I think it's a great opportunity for us to run some plays, just get the juices going, and make sure our timing is where we want it to be by next Friday," Maschmeier said. "I think it's really important to have this scrimmage and have the school come out to watch us; we appreciate everyone's support."
After a 3-6 campaign last year, the team is looking forward to putting  their experience to use in their first game. The players are ready to get back on the field and hope to start their season out strong against a long-time rival.
"I think it's gonna be a great game. I think it's gonna be a hard battle against both teams. I just can't wait for next Friday," Maschmeier said.
The Huskies are set to kick off at 7:30 pm on Friday.The Dawg Pound theme is white out. 
Tessa Devine, Alec Anstine, and Adam Oppenheim contributed to this story.