North student to graduate early in pursuit of collegiate music career
Most Naperville North juniors are getting ready for another two weeks of school, preparing for their final exams before senior year and looking forward to the end of a long school year.
Junior Isabella Isherwood is looking forward to summer as well, but hers will start tomorrow, following her high school graduation. As her classmates start senior year in the fall, Isherwood will travel to Indiana University Bloomington, where she is majoring in jazz, piano and voice performance at the Jacobs School of Music.
"It's a little bittersweet to leave the class that I grew up with, but at the same time I'm really looking forward to pursuing my music at the collegiate level and being able to study among such great faculty and student musicians," Isherwood said.
Isherwood attended Naperville North her freshman year and transferred to the Chicago Academy of the Arts her sophomore year, where she became especially involved in the Chicago jazz scene. She came back to North for her junior year to finish her credits after deciding that she wanted to graduate a year early in order to pursue her passion at a college level.
The student frequently has gigs in Chicago and has performed at venues such as The Harris Theater, The Palmer House and Constellation Chicago. This year she and her quartet headlined for two sets at The Chicago Jazz Festival. She is a member of the Chicago Youth Symphony Orchestra's jazz orchestra and is a part of the Jazz Institute of Chicago's Women's Jazz Leadership Initiative. She is also a 10-year member of Young Naperville Singers. She was involved in her elementary and middle school music programs, where she became more passionate about jazz.
"The particular thing that draws me to jazz is that it's a means of discovering your voice. It's a completely creative art form because every time you sit down and play it's going to be different."
After touring music schools such as the New England Conservatory, The Juilliard School of Music and John Hopkins Peabody Institute, Isherwood chose Indiana due to its well-rounded college experience.
"I'm going to get that attention from [jazz] faculty and that small family atmosphere within the jazz community but I'm also going to be a part of Indiana University, which has such a diverse student body."

She was accepted to IU in early spring, and later to the music program after an in-person audition in March.
The college-bound student started playing piano when she was four years old and said she practically began singing before she could talk. She grew up around music, with her Grandfather performing as a jazz pianist and vocalist in the Detroit area.
"It runs through me, it runs through my veins and through my family; it's just a huge part of who I am, so I've always known that music was my future."
Isherwood is excited to become a stronger musician and to grow through the experience of meeting new people and living on her own next year. Following college, she plans to pursue a master's degree and hopes to record and tour with her music.
The artist has been a part of various Naperville North arts programs, including the jazz ensemble, jazz, symphonic and marching bands, school choir and pit orchestra for Mary Poppins and Les Miserables.
"I've loved going to Naperville North, it's just been cool to grow up among a group of really diverse people and interests, and that's something I value. You need to experience different walks of life and different experiences and I think I've gotten that here at Naperville North."
About the Writer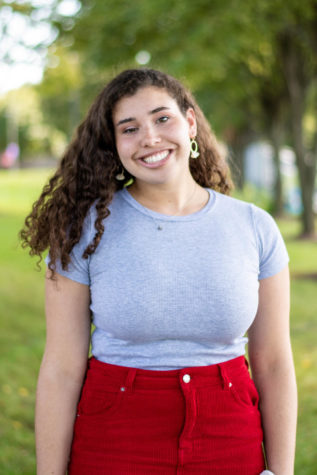 Rachel Hale, Editor-in-Chief
Rachel Hale is a senior and third-year staff member at The North Star. She is excited to serve as Editor-in-Chief this year and hopes to bring some creative...