From France to Naperville, the spring musical "Les Misérables" takes center stage at NNHS
Over the next week, Naperville North's Performing Arts Center will be housing this year's spring musical "Les Misérables."
"Les Misérables," originally a book by Victor Hugo, tells a story of suffering and injustice, mostly following the life of convict Jean Valjean (Axel Hageman) in early 1800s France as he fights to restart his life and become an honorable man. During his struggle for rebirth, Valjean works to help the less fortunate and even joins a revolution, all the while being hunted by Inspector Javert (Julian Wagner-Carena), a policeman obsessed with seeing Valjean behind bars.
Directed by Fine Arts Instructional Coordinator Nicholas Janssen, the musical is also student-produced by Axel Hageman, Alyssa Couch and Harpreet Dhadde.
This show includes loud gun fires, intense fight scenes, smoke effects and mature themes.
The musical will be showing Wednesday, Thursday, and Saturday at 7:00 p.m. and on Saturday and Sunday at 2:00 p.m. Tickets are about $17, $13 or $11 depending on the chosen seat. Tickets can be ordered online with a small convenience fee to select preferred seating.
About the Writer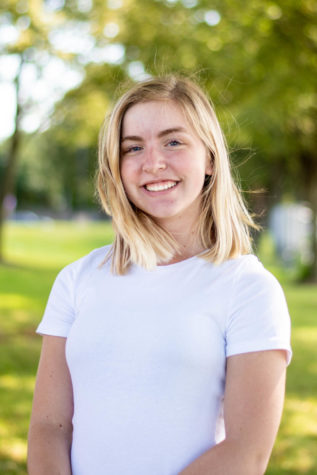 Katie de Waard, Special Projects Managing Editor
Katie de Waard is a senior at Naperville North and the Special Projects Managing Editor for The North Star, looking to enhance staff storytelling. During...