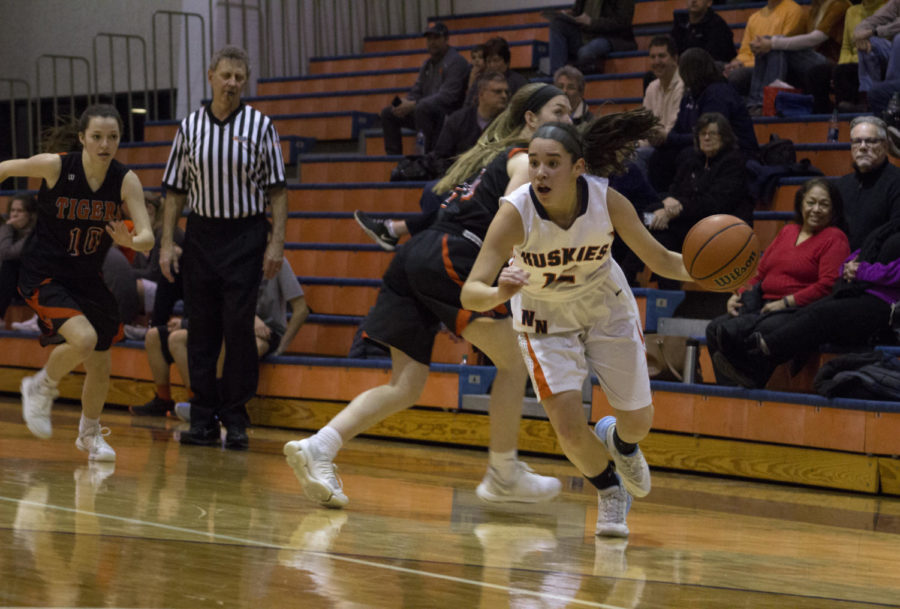 Jacob de Waard
With the regular season coming to an end last night for the Lady Huskies, the playoffs will offer a chance to start anew after Wheaton Warrenville South dominated the second and third quarters of the game.
The Naperville North Huskies (15-11, 10-6) were defeated by the Wheaton Warrenville South Tigers (24-3, 14-2) by a final score of 60-39.
The Huskies were led by sophomore guard Nikki Kwilosz, who had 16 points on 6-13 shooting from the field.
"Coach was telling us that someone had to step up and attack the basket, and I've been playing for the seniors and we want to finish strong for them," Kwilosz said.
Energy plays like the half-court buzzer beater that senior Lauren Platou hit to end the first quarter came few and far, but it gave the team energy and momentum heading into the second quarter.
"Those kinds of plays where you can create energy get people off the bench and celebrating, which is a lot of fun no matter who is finishing the play or making the shot," Platou said. "It really boosts you into the next quarter or the next play, and it's a lot of fun to see those shots go in."
That shot helped the Huskies come back to tie the game at 13 points each after being down early in the first quarter, but a dominant run from Wheaton Warrenville South in the second and third quarters put them up for good.
"[Basketball] is a game of runs, and when they had their run, we didn't punch back. Lately, we've been punching back and then some, we needed to punch back against a really good team in Wheaton South and unfortunately, we didn't tonight," Head Coach Jason Dycus said.
Dycus noticed the girls weren't moving the ball the way they normally do and lacked their usual crisp style.
"With the playoffs starting soon, we're a team that's won eight of our last ten, and we're playing good basketball — we just ran into a night where didn't play our best" Dycus said.
The Huskies will kick off their playoff run as the seventh seed going up against the Lemont Indians (14-12, 8-4) at Naperville Central High School next Wednesday (2/14). Tip-off is currently scheduled for 7:30 P.M.